News
14th July 2014:

NUAST Press ReleaseNUAST

The Nottingham University Academy of Science and Technology (NUAST) is on course to open in September 2014. Initially to be housed in well-equipped facilities on the New College Nottingham campus in Carrington, the main building is on track for scheduled completion in the Autumn.

NUAST has also appointed the Torch Academy Gateway Trust as its educational partner. Tasked with the day-to-day operational management of the academy, the Torch Trust will use their expertise in delivering outstanding academic achievement to ensure that NUAST quickly becomes a top-performing Academy.

To support this process a number of key staff have been appointed to begin work as the academy becomes operational. Harkireet Sohel will become the operational Principal Designate of NUAST, building on the excellent pre-opening work carried out by Ailsa Gough. Mr Sohel has a wide range of school leadership experience and is a trained Ofsted inspector. He will be supported by Mark Henshaw who has been appointed as Vice Principal. Mr Henshaw, who has leadership experience in a University Technical College, will lead on the academy specialisms.

Key industry partners such as Toshiba, Rolls-Royce, Siemens, XMA and Experian have been involved in supporting NUAST from its inception. Industry involvement will give NUAST students direct links with these partners who will provide exciting opportunities for business challenges, mentoring and workplace visits/experiences.

John Tomasevic, CEO of the Torch Academy Gateway Trust said:
"Being involved in the Nottingham University Academy of Science and Technology is a unique opportunity to bring a new and much needed educational provision to Nottingham and the surrounding area. NUAST will provide the opportunity for young scientists, engineers and computer scientists to pursue their aspirations in world-class educational facilities with specialist teachers.

With such strong links to the University of Nottingham and our industry partners, students who attend NUAST will have the very best chance of securing a technical or scientific career in their specialist area."
NUAST continues to be sponsored by the University of Nottingham and the Djanogly Learning Trust.
Professor Sarah O'Hara, Pro-Vice-Chancellor for Academic Planning at the University of Nottingham said:
"NUAST will provide opportunities for 14-19 year olds to benefit from the world-class teaching and research of leading academics in engineering and technology at the University of Nottingham. This is part of our continued engagement with the business community, and our ongoing commitment to the economic success of Nottingham and the wider region."
Ron Kenyon, Chairman of the Djanogly Learning Trust stated:
"NUAST is a brand new and exciting choice for young people in Nottingham and the surrounding area that will improve their chances of getting a job or going onto university. The curriculum will have major input from employers to enable young people to gain a combination of traditional academic qualifications and specialist skills for industry. We welcome the support from Torch Academy Gateway Trust in getting this innovative facility off the ground."
Building work at the Dunkirk roundabout continues apace. Construction company BAM have made excellent progress on the build with an anticipated completion date well within a year of laying the first foundations.
In response to the building, Harkireet Sohel, Principal said:
"I am so excited to be opening an academy in such an iconic, landmark building. We anticipate a gradual move into the building over the autumn term to ensure that everything is in place to deliver our unique curriculum."
The Nottingham University Academy of Science and Technology is set to provide a much-needed educational focus on science, engineering and computing for the young people of Nottingham and the surrounding area. Places are still available for Year 10 and Year 12 September enrolment.
14th July 2014:

NUAST Joins the Splendour Festival Line-UpNUAST
If you are going to be at Wollaton Park for Splendour Festival this Saturday (19th July) then drop by and say hello to the NUAST team on their stand. You'll be able to take part in some fun hands-on science activities, including our Marshmallow Tower challenge and ask any questions you have about what NUAST has to offer.
13th July 2014:

Student Induction EventNUAST

NUAST is holding an induction event for all new Year 10 and Year 12 students.
8th July 2014:

James Copeland triumphs in UKMT Junior Mathematical OlympiadToot Hill School

James achieved a distinction in the UKMT Junior Mathematical Olympiad, together with a Bronze medal for answering 2 questions excellently.

Mr Ritzmann (Lead Teacher for Gifted and talented in Mathematics) presented James his award in the Year 7 assembly this morning.
8th July 2014:

Katie Copeland, Year 10, excels in MathematicsToot Hill School

The UK Mathematics Trust has invited Katie to attend its Summer School at Oxford University for a week in August following her excellent performance in the Intermediate Maths Challenge. She has done exceptionally well to have received this invitation (it's for "around 40 of the UK's most talented young mathematicians")

In the Olympiad Hamilton Katie achieved a Merit.

We look forward to hearing all about the Summer School on Katie's return in September.
8th July 2014:

Excellent squatter settlements in GeographyToot Hill School

The students have recently learnt about Kibera which is one of the worlds most noted slums located in Kenya, Africa. It is believed that 1 million people live in the squatter settlement which has poor hygiene and open sewers and it is estimated that up to 100,000 children are infected with HIV. Pupils followed the lesson up by reading an extract from Bill Bryson's diary of life in Kibera and for homework, students recreated their own journey through the slum to get a sense of what life is like in a squatter settlement. In the follow up lesson, students then fully immersed themselves in slum life by recreating their own squatter settlement out on the school field. Their only materials were cardboard boxes, bin bags and some wooden canes (and anything else they could find). In a competition of boys vs. girls the stakes were high, especially when it came to testing out the durability of the squatter settlements with a bucket of water. It was safe to say, the best house was won by the girls as it was completely water proof.
3rd July 2014:

A Eulogy to the Learning LoungeToot Hill School

Students had to put together a panegyric speech about someone or something they were fervent about for an English lesson. The two students involved in this eulogy, performed the speech again for Mrs Litherland and I in their Learning Lounge lesson on Thursday 3/7/2014. Feeling magnanimous we awarded the pair 'Learning Lounge goody bags'.
'Have you heard of a magical place coloured in lime and purple, that combines both education and entertainment? Have you ever seen such a small room with such immense atmosphere and such intense togetherness. Well! I have four words; 'Mrs Litherland's Learning Lounge!'

99.9% of all pupils and teachers agree that without the learning lounge, the world would be no more. I personally was a lost boy with little reading ability alone in a school so vast. That's when the Learning Lounge took me in. Firstly, they increased my social skills. Then, they taught me the wonders and thrills of reading and finally…they gave me sweets!

Even David Cameron said "What a fun, fantastic and fulfilling experience". So it's simple really. Everyone repeat after me.

"Learning Lounge for Year 9's, Learning Lounge for Year 9's".

And together we can all be happy for yet another year!'
By Joe Marshall 8.11 and Dan Morris 8.2
30th June 2014:

2013 was fabulous!Toot Hill School

Last year was a very busy year for the MFL team. As well as teaching, all teachers took students to France, Germany or Spain. It all started in January with the French exchange, when a group of year 10 and college students survived the long coach journey to Longwy in North-East France. Despite the adverse weather conditions, students had a thoroughly enjoyable time seeing French lessons in action, visiting a ceramic factory and exploring the wonders of Paris. The French students were welcomed back in March with a lovely buffet at the school and Toot Hill students showed their French peers the school as well as visiting Sherwood Forest and screaming on the rides at Alton Towers. In early March, it was the turn of the German Exchange. Twenty-four students from years 8, 9, 10 stayed with families in Burladingen near Stuttgart. They had a fantastic time at the tiny Progymnasium school as well as visiting the Daimler-Benz Museum and seeing Flamingos in the snow at Stuttgart Zoo. In April, the German students brought the sun with them and we enjoyed a lovely week of activities including ice-skating, Alton Towers and a farewell 'Fish and chips' evening.

It was all go go go for Toot Hill Activities Week for MFL. Mrs Blasco, Mrs Smith and Miss Tervit flew to sunny Barcelona where they just didn't stop having fun. Some activities included a tour around Nou Camp football stadium, a relaxing visit to the beach and a ride on the rollercoasters at PortAventura Theme Park. Meanwhile Mrs Scott voyaged to the wonderful city of Paris with a group of students. The football stadiums and theme park were clearly popular destinations as the students visited the Stade de France football stadium and went on one of the oldest wooden rollercoasters in Europe at Parc Asterix. Naturally no visit to Paris would be complete without a visit to the Eiffel Tower. Mrs Rahman, Mrs Myers, Miss Hannah and Miss Riley remained in Bingham for the majority of the week running the Toot Hill Languages Week. Pupils learnt about European artists, cooked pizza at Pizza Express, and made T-Shirts for the main day of festivities, the trip to Boulogne. At 1:45am, all very alert, pupils set off to Dover to catch the ferry to Calais. The group arrived in Boulogne about 10am and pupils were treated to a visit to a crêperie, a town trail around Boulogne, and a trip to the hypermarket where they bought lots of nice authentic food and presents. Returning at 11:30pm was very tiring, but pupils had a great time. All trips were very successful and we thank parents and pupils for all of their support.

This year will be just as busy as we plan to run all of these trips again and introduce the Spanish exchange. We are very excited about these opportunities and will be advertising more information soon. If you would like to know more about these events and keep up to date with what is happening in the MFL department, please follow us on Twitter. (@TootHillMFL)
30th June 2014:

We like to dress up!Toot Hill School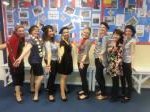 Fancy Dress season hit the MFL department early this year and within a month, we had already dressed up twice. In September we celebrated European Day of Languages, where the teachers were sporting some traditional attire. This made many a pupil laugh. Pupils were tested on their language knowledge and year 7 and 8 students were competing against each other, saying 'hello' in as many languages as possible. The event was a great success so look out for something bigger next year.
October was time to celebrate Día de la Hispanidad (Spanish Day). There were some lovely Señoritas in traditional attire and year 7 and 8 learnt lots about Spanish culture. The canteen made Paella and Spanish Omelette which sold out by the end of the first lunch time.
We also have exchange trips running to Germany, Spain and France which will be a roaring success and a fantastic opportunity for pupils to experience the languages and culture first hand.
The MFL department has been busy as always in the last few months, organising various trips. In February we welcomed French visitors from Longwy in France as part of the French Exchange. French teenagers spent time with their host families, in lessons at Toot Hill and also took part in various trips to Sherwood Forest, Nottingham Ice Arena and the Harry Potter Studios. All participating pupils enjoyed themselves greatly and are really looking forward to improving their French further on the return visit to France taking place in March.
In January Mrs Scott accompanied four year 9 students to a Russian Day at Nottingham University. Here pupils learnt some Russian, learnt all about the Russian Culture and even made merchandise for the Sochi Winter Olympics. On a similar note, Miss Riley accompanied 6 students to Nottingham High School for Girls for a European Challenge event. Pupils were challenged to take Stilton Cheese to the European market and use their language skills to present to foreign companies. You could even call it a European Apprentice. Below is a picture of their market stall.
This February, year 7 showed of their art skills by designing masks to celebrate Karneval in Germany. Below is a photo of the winning entries from Seb Kitts, Emily Mann and Luke Markham. Well done also to all others involved.
The year 8 pupils are also preparing themselves for EuroFactor, Toot Hill's answer to the European X Factor, later this month. Several pupils will be showing off their singing skills, performing foreign songs and even Mrs Rahman and Miss Riley will be taking part so watch this space.
The MFL department are also looking forward to welcoming German pupils from Burladingen in May. The pupils are very excited about taking part in trips and are corresponding with their partners already.
Finally, we are looking forward to upcoming foreign trips to both Paris and Barcelona during activities week so look forward to some excellent photos.
Our Trust
Meet Our Team
John Tomasevic
Trust Director
CEO Torch Academy Gateway Trust
John is a National Leader of Education and serves on the DfE Headteacher Reference Group. He led Toot Hill School from a 'satisfactory' Ofsted judgment in 2004, to 'good' in 2008 and 'outstanding' in 2011. He has also led a number of wider networks, including Nottinghamshire's 'Good to Outstanding' network. John provides the strategic lead for the TAG Trust and is Executive Headteacher of Toot Hill, Meden and NUSA.
Barrie Thomas
Chair Torch Academy Gateway Trust
Barrie is Chair of the Board of Trustees and has extensive experience of school governance. He was elected as chair of governors at Toot Hill School in 2002 and was responsible for overseeing the conversion of the school to academy status in 2011. Now semi-retired he was Managing Director of a group of companies in the service sector.
Jonathan Taylor
Trust Director
Vice CEO Torch Academy Gateway Trust
Jonathan is currently Vice CEO of the TAG Trust. He has worked in school leadership since 2000 and joined Toot Hill School as Deputy Head in 2007, before his appointment as VICE CEO in September 2012. He led the development of the Torch Teaching School Alliance and is currently project lead for the Nottingham Free School. His areas of expertise include strategic leadership, self-evaluation, pastoral care, staff development and quality assurance.
David Hooker
Trust Director
Head of School, Meden
David is currently Head of School at Meden School. He has transformed Meden School, leading it out of special measures and delivering sustained improvement that saw Meden as one of the 10 most improved schools nationally. He was previously Deputy Head at Toot Hill School. David specialises in school improvement, curriculum development, appraisal and the use of data to drive improvement.
Ashfaq Rahman
Trust Director
Head of School, Toot Hill
Ashfaq is currently Head of School at Toot Hill School. Under his leadership Toot Hill School achieved its best ever examination outcomes, securing results that place Toot Hill in the top 2% of all schools nationally. Previously as Deputy Head at Toot Hill Ashfaq led the achievement agenda, consistently securing results that place Toot Hill as one of the highest achieving schools nationally. Ashfaq specialises in personalized learning, the use of data, school improvement and school standards.
Our Values Outlined
Our values are central to developing a positive ethos throughout our group of schools. This approach is focused on securing success for all our learners and providing them with the very best life opportunities.
We believe nothing is more important than making a difference to children.
We Promote:
Trust: All stakeholders work together to realise our vision
Integrity: All decisions are based on the best interests of our students
Mutual Respect: Ensuring a voice for all stakeholders
Empathy: Teaching should be well planned, varied and stimulating
Self Improvement: A commitment to supporting the development of our staff, students and wider community
Group Ethos
High expectations are essential to raising standards
Everyone can succeed
Barriers to learning must be challenged and overcome
Teaching should be well planned, varied and stimulating
Learning should be active, focussed and engaged
High standards of behaviour are expected at all times
Clear lines of accountability exist at all levels
Developing staff and students to engage in effective teaching and learning
Securing Success
Our vision is to build capacity for sustained improvement. There are a number of short term strategies that can be initially used to enhance outcomes but it is out view that these need to be supplemented by a process that transforms a school for long term improvement.
This work is centred on transforming a school using our 'Pillars of Success' improvement model. Transformation is achieved through the combination of a number of changes and improvements to each of these pillars within a school:
Leadership
CPD
Curriculum
Learning Organisation
Care, Support, Guidance
Performance Mangement
Tracking and Intervention
Schools in our Trust
Secondary Phase
Toot Hill School
Toot Hill in an 11-18 comprehensive school, serving 1800 students, located in Bingham, Notts. Ofsted evaluated Toot Hill as 'outstanding' in December 2011 praising the school's examination outcomes, curriculum, leadership, behaviour and pastoral systems. Toot Hill runs an extended learning week and operates an innovative 'tiering' system to ensure appropriate stretch and challenge for every child. Toot Hill is the founder school of the TAG Trust and the lead school of the Torch Teaching School Alliance.
Meden School
Meden is an 11-18 comprehensive school of 900 students serving the former mining community of Market Warsop. The TAG Trust formally sponsored Meden in 2012 and has overseen its rapid improvement. Meden was in the top 10 most improved schools nationally in 2012 and this improvement was maintained in 2013.
Nottingham Free School
The Nottingham Free School will open in September 2014, serving the Sherwood, Carrington, Mapperely and Mapperely Park areas of Nottingham. The school will be distinctive, specialising in Arts and Science, and will run an extended school day. Initially opening for just Year 7 the show will grow in size to over 700 when full.
Primary Phase
Birklands School
Birklands joined the TAG Trust on 1st April 2014. It is a feeder primary school to Meden, serving children in Market Warsop. We are very excited at the prospect of supporting out first primary school and will look to establish strong links between the primary and secondary sectors, using expertise from the Torch Teaching School Alliance.
Partnership Schools
Nottingham University Samworth Academy
In November 2013 the TAG Trust entered into a long term partnership support agreement with NUSA. NUSA serves the Bilbourgh area Nottingham, with 800 students on roll. Located in an iconic new building NUSA seeks to raise aspirations and secure high outcomes for students. NUSA works innovatively with its sponsors, the University of Nottingham and the Samworth Trust.
Djanogly City Academy
In April 2014 the Torch Academy Gateway Trust entered into a long term support partnership with the Djanogly City Academy. DCA is situated to the north of Nottingham and serves the communities of Forest Fields and Basford. The aim of the partnership is to improve teaching and learning, ensuring that every pupil realises their full examination potential and secures the very best start in life.
Torch Teaching School Alliance
An Inclusive Teaching School Alliance
The Torch Teaching School Alliance is a partnership of 22 multi-phase schools spread across the East Midlands, based at Toot Hill School, Bingham, who all share a common goal of continuous school improvement through collaboration.
The prime aim of our teaching school alliance can be distilled into two key targets:
Improving the quality of teaching in the classroom
Raising levels of attainment and progress through all key stages
We warmly invite you to consider joining us to help shape the future of our profession and the lives of the children we serve. We are an open and inclusive Teaching School Alliance welcoming schools from all phases. If you would like to find out more about the Torch Teaching School Alliance use the contact form on this site or alternatively visit our website at www.torchtsa.co.uk.
Jobs and Recruitment
The TAG Trust offers an exciting and dynamic workplace environment. We believe that staff make a difference to children and place staff development at the centre of our strategic planning. All teaching staff are offered the opportunity to complete a funded Masters in Education programme, in partnership with the University of Nottingham. Staff are offered regular training opportunities and we run a series of 'in-house' training schemes to prepare staff for career progression at all levels. The Torch Teaching School alliance offers the opportunity for wider professional networking and opportunities to lead and learn from colleagues working in a diverse range of settings.
Our staff are highly professional, work hard and are appropriately rewarded for doing an excellent job.
Current Vacancies
Contact Us
Torch Academy Gateway Trust
c/o Toot Hill School
The Banks
Bingham
Nottingham NG13 8BL

01949 863 053